In addition to big projects like RobZ or prototypes made during my school years (CARUS and Voodoo Child), I was also able to create smaller games projects or works that are not related to programming.
Here is an overview of what I was able to achieve:
1 - Modeling
2 - Drawings
3 - Other projects
4 - Motion
Modeling
Section being created
To the top
Drawings
Other projects
2048
The 2048 is a puzzle game. It was originally created by an Italian developer called Gabriele Cirulli and released online under a free license in March 2014.
The goal of the game is very simple: you have to drag tiles on a grid, to combine the tiles of the same values and thus create a tile bearing the number 2048. Two tiles bearing a 2 will merge into one 4, two tiles bearing a 4 will give an 8, etc… However, there are modes where the player can still play after the goal to make the best score possible.
Since then, the game has been adapted in many ways, and on many supports.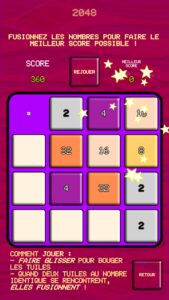 In this case, what could set this version apart from the others and make people want to play it?
First of all, there are two modes in this game, a Time Trial mode, in which the player must arrive as soon as possible to the 2048 tile, as well as an Endless mode in which the player will have to go as far and make the greatest score possible.
These two modes have a leaderboard in which players will be able to see not only the high scores, but also the scores around them, to see where they stand relative to the high scores.