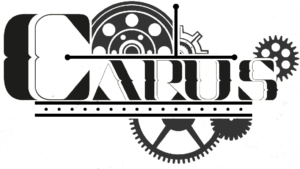 Duration of the project: between January 2015 and June 2016
Between November 2015 and July 2016, I was able to help during the development of a game prototyper called CARUS.
CARUS is a platformer game also called FPP (for First Person Puzzle), taking place in France during 1950s.The game develops a Steampunk universe.
I worked with them on the UI (User Interface) programming, but also on the gameplay and audio part (concerning the integration of sounds in the game).
Furthermore, the project was selected for the Indie Game Contest 2016 of Strasbourg, and nominated in Ping Awards on 2016 in the category "Best student game".
Other Team Members:
Sylvain Patay : Team Leader / Integrater
Clément Meley : Environment Artist
Ophélie Tenazio : Environment Artist
Adrien Berton : Rigger / Animater
Aymeric Pinier : Character Artist